Low loader semi-trailer for Hammel Recyclingtechnik
---
Published on 3. December 2019.
Ordered Friday, delivered Monday
Semi-trailer for Hammel Recyclingtechnik GmbH
The development of Hammel Recyclingtechnik GmbH, which was founded in 1996, is just as rapid as the delivery of one of our stock vehicles. The team, which originally consisted of three employees, has developed into a world-leading company with several hundred employees. Hammel specializes in shredding and recycling technology and develops efficient complete systems and special machines. Hammel e.g. developed the first mobile scrap processing plant. For the first time a machine was able to process mixed starting materials, such as car bodies, into materially separated end products.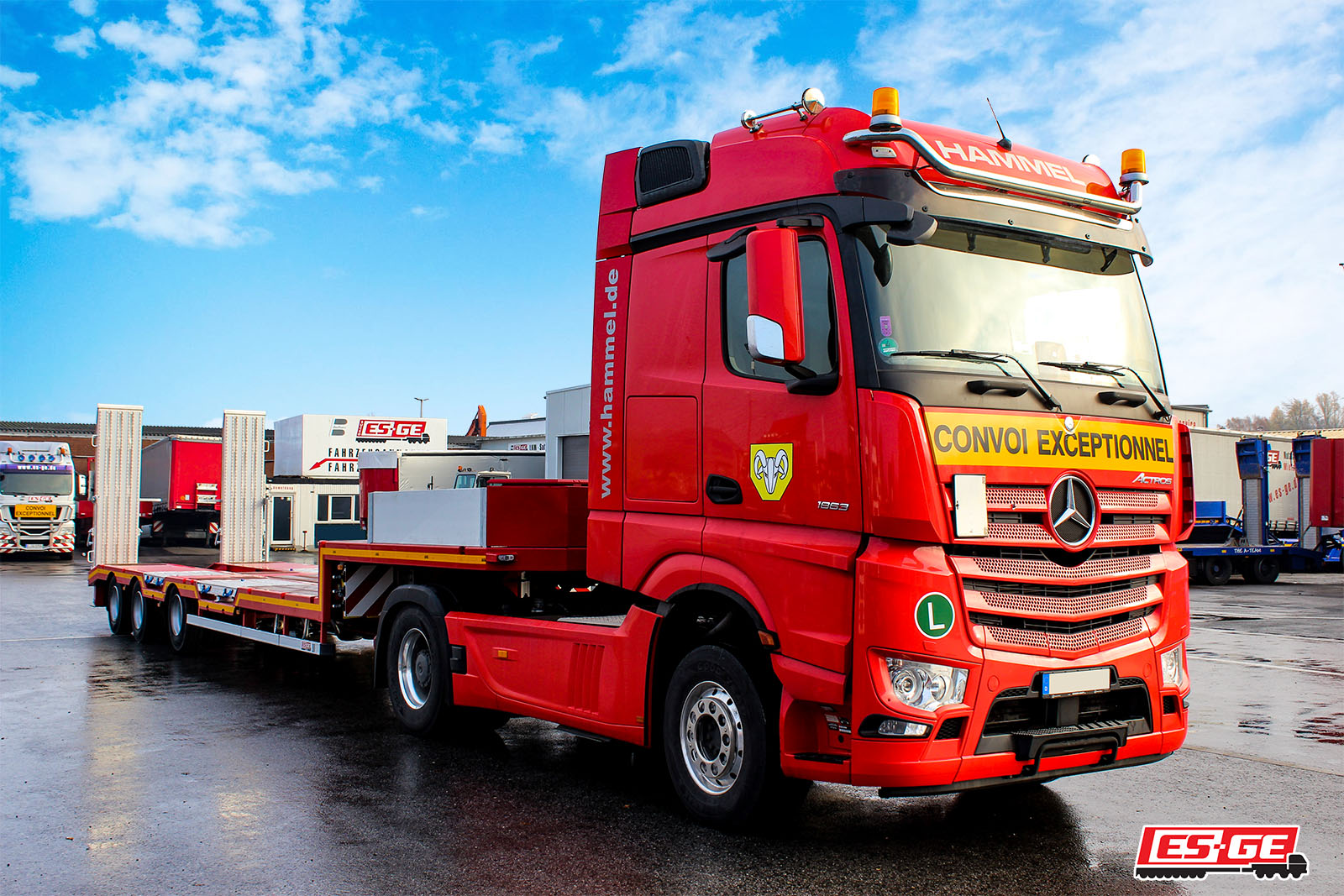 Diversified: Our vehicle pool
Flexible and fast – this is also our claim when it comes to handling customer inquiries. Not even three working days passed between the initial contact by Hammel Recyclingtechnik GmbH and the final vehicle handover. Our stock vehicle fleet and our long-term planning offer numerous opportunities for targeted and customized solutions. Our ES-GE 3-axle semi-trailer low loader is at least as flexible as the mobile scrap processing plant from Hammel. We handed over a new stock vehicle to the fleet manager of the German company from Bad Salzungen.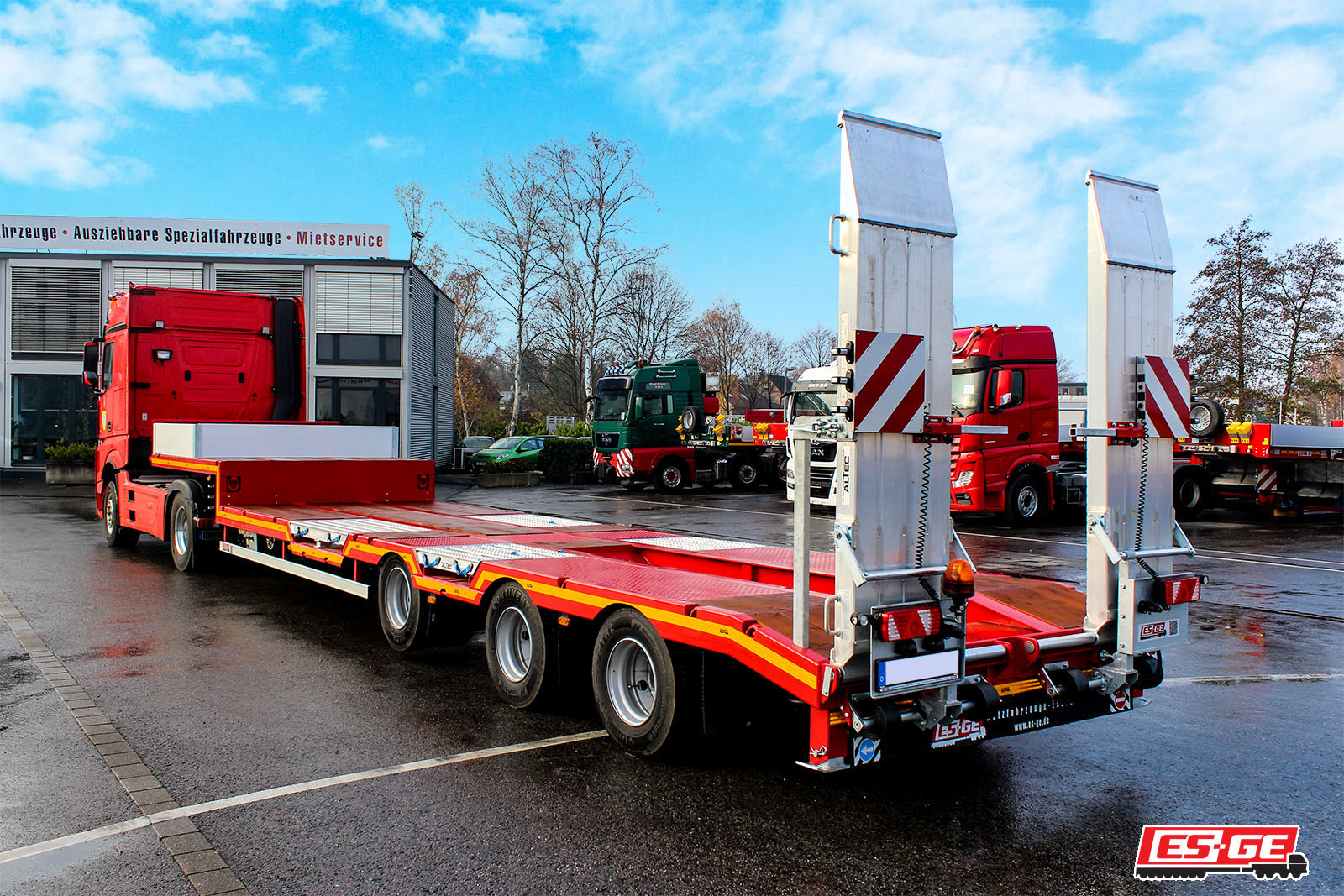 Extremely light-weight low loader semi-trailer
The "lightweight" of our product range becomes a heavyweight regarding payload. Theoretically, more than 40 tons can be transported with the low loader of our own brand. Lightweight design, the materials and the construction itself help to keep the weight just about 7,300 kg. But being light is not enough. After all, it is a commercial vehicle. And commercial vehicles have to be useful. Self-propelled vehicles or equipment can be placed on the loading area via the rear-mounted aluminum ramps. The wheel recesses can be covered depending on the application.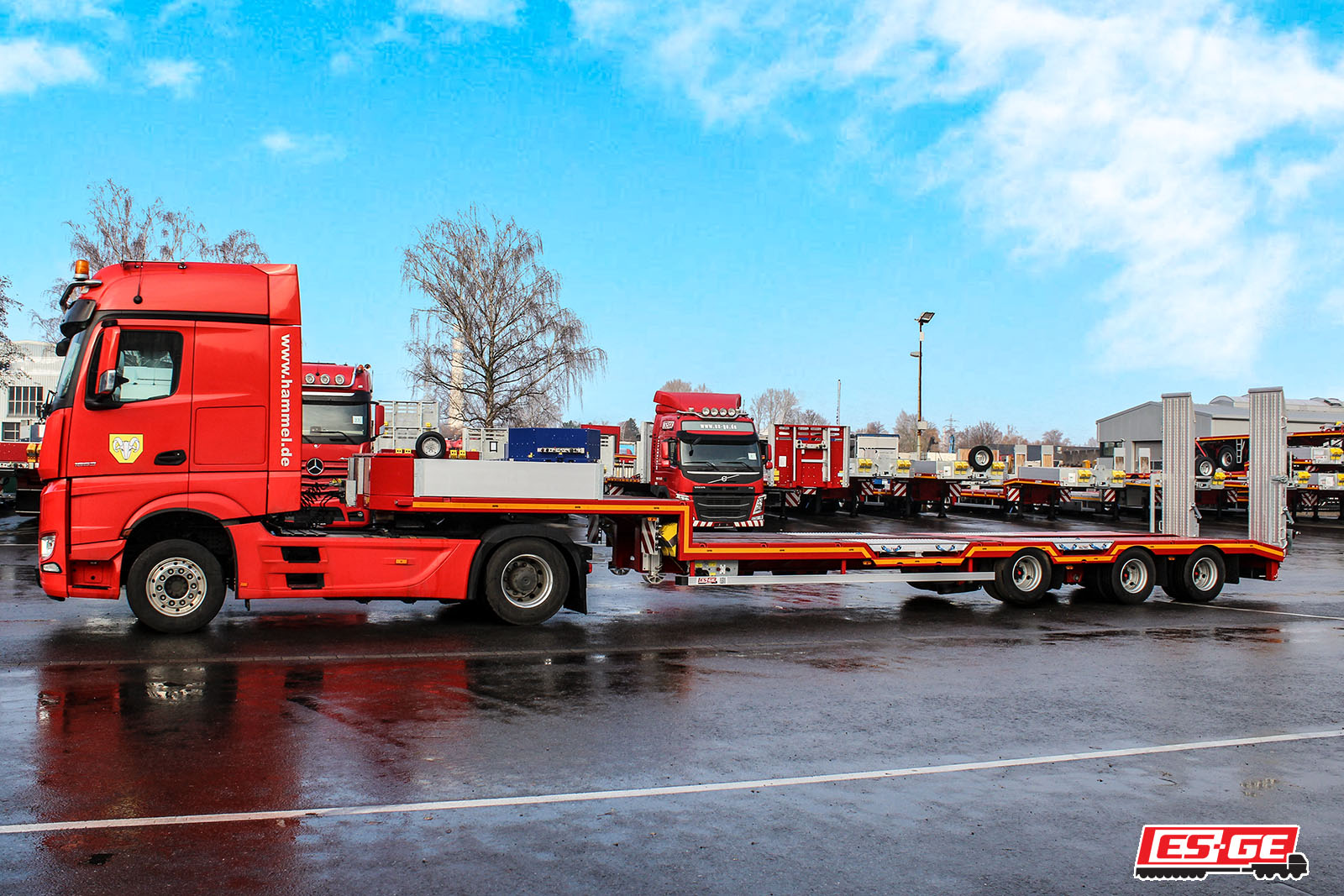 Equipment and accessories
Load securing – probably one of the most important topics in the field of transport. With a total of five pairs of heavy-duty lashing points, our low loader also meets these demands. Lashing options are at the neck, on the loading area and in the excavator handle between the three axles –  all coming from SAF. The last of the three axles is equipped with  self steering system, which is automatically locked when reversing. In addition to the high-quality mechanical components, the robust wood floor, the fully metallised frame and the coating ensure the necessary longevity in daily use.
We wish you a safe journey!